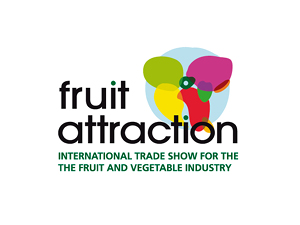 Fruit Attraction 2023
Fruit Attraction is the international trade fair of the fruit and vegetable sector. Organised by IFEMA MADRID and FEPEX, it will take place from 3 to 5 October 2023 in Madrid.
Fruit Attraction has become the commercial tool of reference for the global marketing of fruit and vegetables. Its ability to promote global exports of the sector, make it the point of commercial connection of the whole set of professionals that make up the entire value chain, in addition to having established itself as a framework for innovation in the fruit and vegetable market.
With the claim Connecting Ideas, Business and People, Growing Together!, there are many new features that this edition of Fruit Attraction will continue to offer to the whole of the fruit and vegetable industry to further contribute to boost and facilitate their business interaction:
Brazil, USA and Canada, will be the invited importing markets.
Specialisation and customisation of the existing offer: Fresh Produce, Auxiliary Industry, Fresh Food Logistics, Ecorganic Market, Smart Agro and Biotech Attraction.
Fresh&Star: Lettuce will be the star product.
Program of conferences and sectorial knowledge: Grape Attraction, Biofruit Congress, Fresh Food Logistics The Summit, Innovation Hub, Factoría Chef,…
Increased number of services for participating companies: LIVE Connect, B2B, VIP Cards, Fruit Attraction Fresh News,…
This year we are celebrating our 15th anniversary! Join Fruit Attraction and connect with the great fruit and vegetable community from around the world.
For more information please click here.