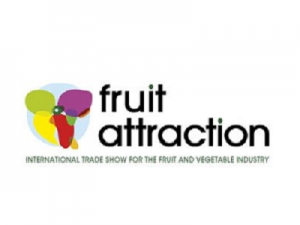 Fruit Attraction
Fruit Attraction, the International Trade Show for the Fruit and Vegetable Industry, commemorates in its next edition its 10th Anniversary.
– It will take place in Madrid (Spain), from Tuesday, October 22nd to Thursday, October 24rd.
– This year will be its largest edition, with a forecast of 1,600 participating companies and 70,000 professionals fom 120 countries, making Madrid the world capital of the horticultural sector during that week.
– With the slogan "Where Fresh Produce & Innovation Meet", Fruit Attraction 2018 offers a wide range of innovations to the industry as a whole to continue driving and facilitating business interactions by serving as a platform for participating companies
– Fruit Attraction provides fruit and vegetable operators around the world the VISIBILITY, ENGAGEMENT, SALES LEADS and CUSTOMER LOYALTY they need to keep diversifying and expanding with exports to new markets.
For more information please go to fruitattraction.com