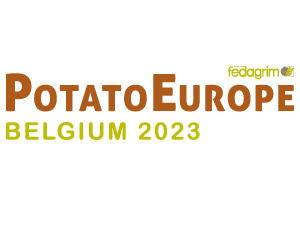 PotatoEurope 2023 : 6-7 September, Tournai, Belgium
The international field demonstration and exhibition PotatoEurope always takes place in one of the four main countries for potato cultivation in a 4-year cycle. After France, the Netherlands and Germany over the past three years, Belgium is once again hosting this biggest open air potato event in 2023.
PotatoEurope is an ideal opportunity to meet nearly 230 exhibitors from over 15 countries. Representatives from the entire potato supply chain will again be visiting the venue in Kain, near Tournai, on 6 and 7 September 2023. Last edition they were more than 10,000 from over 40 countries to visit PotatoEurope. This year we are determined to do even better, thanks to the presence of the whole potato chain. And thanks to the demonstrations of harvesters and storing lines, but also of alternative haulm killing systems and mechanical weed control. With a wealth of novelties and an inexhaustible source of information and knowledge of all aspects of potato cultivation and processing.
More information on potatoeurope.be