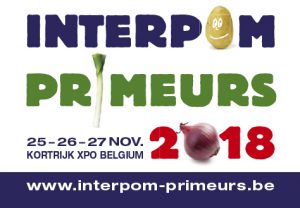 INTERPOM PRIMEURS
The biggest indoor potato event in the world!
INTERPOM | PRIMEURS is the most specialised indoor trade fair for the potato and vegetable sector in Europe where the whole chain is represented: from growing, to processing and marketing. The next edition will be held in Kortrijk Xpo (Belgium) on Sunday 25 through to Tuesday 27 November 2018. INTERPOM PRIMEURS offers a complete and above all sharply focused range of products and services for all professionals in the potato and vegetable sector: growers, contractors, processors, packers, buyers and traders of fresh and processed potatoes and vegetables from all corners of Europe – and increasingly, from other continents as well. INTERPOM | PRIMEURS continues to grow and become more international each time round with 310 exhibitors from 15 countries and 20.000 visitors from 49 countries at the past edition.
INTERPOM PRIMEURS is an initiative of Belgapom, the official trade association of the Belgian potato sector (trade and processing). The practical organization is in the capable hands of Kortrijk Xpo.
Read more here.